A partnership between Allbirds and Natural Fiber Welding, which makes a new alternative leather, sheds light on the chemical processes in other alternatives.
POR RACHEL CERNANSKY 25 FEBRUARY 2021 – Vogue Business
As real leather falls out of fashion for its impact on the environment and on animal welfare, plant-based leathers, increasingly derived from mushroom or pineapple and other crop waste, have taken off. But while these alternatives are a significant improvement over the plastic-based fake leathers of the past, they still rely on chemical processing to give them a leather-like feel and durability presenting environmental problems of their own, chemists and industry experts say.
Today, footwear startup Allbirds announced a $2 million investment in material innovation company Natural Fiber Welding and its Mirum technology to use a leather alternative made from only natural materials and processed with a lower carbon footprint compared to real leather. It's a step forward for leather and material innovation, as Mirum achieves a leather-like quality without polyurethane or other petrochemicals used in many leather alternatives marketed as plant-based and sustainable.
That makes Mirum an exception to the rule: while other startups have worked to reduce or eliminate harmful chemicals in the production of leather substitutes, many still depend on them or don't disclose their manufacturing process at all. Given weak regulations and lack of transparency around chemical use, some experts say that a lack of public disclosure can be an indication there's something to hide.
That's why Allbirds's investment in Natural Fiber Welding is significant: it could raise the bar for how the industry approaches its use of harmful chemicals, and shift expectations particularly for products marketed as sustainable. Mirum technology can't be applied to other plant-based leathers — it's an entirely different production process — but it does provide a new option for brands looking to replace leather or improve their leather alternatives. It could also accelerate research to develop alternatives to polyurethane, or put pressure on other vegan leather manufacturers to ensure their production is sustainable in more ways than one. As consumers grow savvier and as more suppliers like Natural Fiber Welding come online, it will be harder for brands and manufacturers to get away with claiming their products are sustainable if they're only improving one part of it but ignoring damage caused by the rest.
"It's one thing having a sustainable fibre. It's quite another having a sustainable textile at the end of it," says Amanda Cattermole, a chemist and consultant who works with apparel companies to develop chemical management programmes.
Allbirds's natural leather alternative is made with Natural Fiber Welding's Mirum technology.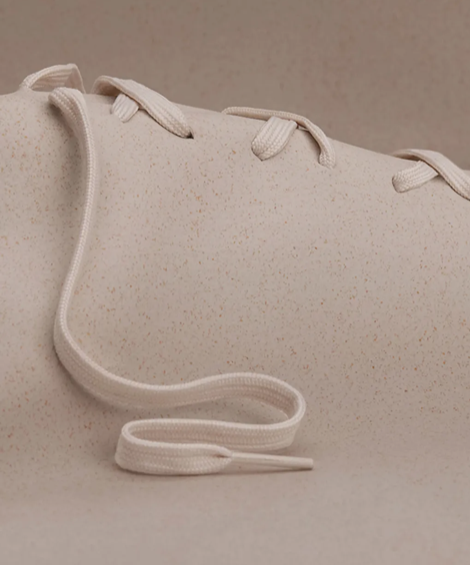 Natural Fiber Welding founder Luke Haverhals says they developed Mirum — both its ability to look like leather, but also its ability to be molded, shaped and finished without polyurethane — by borrowing concepts from nature. It's made from a mix of cork, natural rubber, vegetable oils, crop wastes like rice hulls and other natural materials — and can achieve different consistencies by adjusting the ratio of those materials. Natural materials, he explains, are able to form strong bonds and to create "cross links" — the technical term for how polyurethane gives strength and durability to the materials it's added to — with each other.
Allbirds is planning to use Mirum (it's calling it plant leather) initially in one style, and to eventually make it a core material for the brand. Haverhals says Natural Fiber Welding is also in talks with both affordable and leading luxury fashion brands, as well as companies in other industries, and plans to open a large-scale factory so that brands can start placing large orders later this year. He expects other brands to be able to launch with Mirum in 2022.
Searches for "vegan leather" have increased by 69 per cent year-on-year, according to global fashion search platform Lyst, while searches for real leather decreased by 3.5 per cent year-on-year, signalling the demand for leather alternatives. Many of the hottest vegan items continue to be made out of petroleum-derived chemicals — Nanushka's vegan leather puffer jacket, for example, was the most-searched-for product last February, according to Lyst, after being spotted on Gigi Hadid and Kendall Jenner, and is made entirely from polyester and polyurethane. (A representative for Nanushka said it does not market its vegan leather as sustainable, and is aware that polyester and polyurethane have negative environmental impacts.) Polyurethane in particular is the potentially harmful substance that's hardest to avoid — it's good at imparting shine, water resistance and an overall more durable finish and so far hasn't had any safer alternatives to take its place.
Current marketing of plant-based alternatives can be misleading, says Martin Mulvihill, founding partner at Safer Made. "They say, 'Look, it's made out of pineapples.' No, it's not — it's made out of polyurethane. It's using the available technology and making it a tiny bit better," he says — adding that his firm has looked at a number of plant-based materials as potential investment opportunities, and decided not to invest in large part for this reason. "It's preying on people's unfamiliarity and discomfort with chemistry."
Several companies that Vogue Business reached out to, including Apple Leather, Piñatex and Vegea — which make leather alternatives out of crop waste from apples, pineapple and grapes, respectively — did not respond to questions about their use of polyurethane before time of publication. On its website, Philippines-based Piñatex says it uses a water-based polyurethane resin that is compliant with REACH, the system for regulating chemicals in Europe. A Nanushka spokesperson said, "We have been working behind the scenes for months to improve the sustainability credentials of our vegan leather, so not only it can be vegan, but also better for the environment and people."
MycoWorks, which makes a leather-like substance out of fungi, would not specify what it uses to bind or coat its Reishi material, which is expected to debut in products when partnerships with global luxury fashion brands are announced this year, but said it uses green chemistry as much as possible. "We do not add any plastic binders to our material," says CEO Matt Scullin — although he pushes back against the idea that Reishi is a replacement for leather, saying instead it's an entirely new material option. "Our proprietary Fine Mycelium technology creates a dense, intertwined cellular structure that imparts incredible durability on the material — far greater than natural material. This is in stark contrast to plant-based 'leathers', which are, in fact, non-woven fibres that are then bound together with a resin that is typically polyurethane."
MycoWorks CEO Matt Scullin says its Reishi material is a whole new type of material, not a leather replacement.
He says they also avoid some of the toxic chemicals used in traditional leather tanning, which could be a concern for mushroom-based materials (but not the crop waste fibres, because those materials have such a different structure and are processed and dyed differently).
"We continue to strive to understand the full impact of each chemical used in the industry, and [as] we — and the wider industry — learn, we will continue to work to lower the impact of Reishi even further," he says.
California startup Bolt Threads uses "predominantly" renewable, bio-based ingredients. Vice president of product development Jamie Bainbridge says they use a combination of natural and synthetic chemistries, including polyurethane, to make its Mylo "mycelium leather", but are trying to eliminate as much of the synthetic chemistry as they can. "We're working very, very hard to keep this product a bio-based product." Bolt Threads has relationships with Kering, Stella McCartney, Lululemon and Adidas, which are expected to begin revealing products made with Mylo this year, according to the company.
Bainbridge says they have strict screening and testing processes for the chemicals they do use, and while they meet various Restricted Substances Lists, she recognises the limitations of such lists in ensuring safety and are incorporating other steps to improve their chemical use policies. "A Restricted Substances List is a really tiny list of things that show up over and over again in materials," she says. "These other tools don't tell us what not to put in. They tell us what to put in that we know we can count on."
While she recognises that Mylo and other plant-based leathers are not perfect, she says it's important to look at what they're replacing — and in that context, they come out the clear winner.
"One of the biggest misnomers in the consumer world is that leather is a natural product. Leather is at least 40 per cent chemistry," she says. "If you take that natural hide from an animal — which, if you look at it under a microscope, has the most incredible structure to it that allows leather to be what it is — it can't be that without the addition of enormous amounts of chemistry."
To become a Vogue Business Member and receive the Sustainability Edit newsletter, click here.
Comments, questions or feedback? Email us atfeedback@voguebusiness.com.